Benjamin Franklin said that, "in this world nothing can be said to be certain, except death and taxes." The nature of work is constantly changing.  Managing your facility to meet your change requirements can be a challenging when you can't easily increase your real estate footprint, or your interior elements can't be easily or quickly changed.  Interior modular walls, freestanding privacy rooms, semi-private structures, modular wiring, raised flooring and modular solutions for routing of power and data allow organizations to transform their space quickly.   Modular interior products can allow you to make changes with substantially less disruption to employees and their work.
Testimonials
This company puts 110% effort into working with its clients
Terry, Greg, and the install the install team from e3 were a pleasure to work with - right from the beginning to the end.  Greg was really great - prompt in his responses and extremely helpful.
Denise Dolliver
Theatre Newfoundland
Absolute best service I have ever experienced
e3 Office Furniture & Interiors Inc provided the absolute best service I have ever experienced. From the start of the project to the completion, Terry`s design and product knowledge was outstanding.
Christine Cote
Construction Integral
The Price was better and the delivery time faster
Great experience with this company.  Furnished 12 offices and a boardroom- the price was better than other companies I investigated, and delivery time was faster.  Greg was very helpful.
Cynthia Welton
Stingray Radio
Very quick at responding to my questions
I recently purchased an office furniture from this company and dealt with Krystal Cormier. She was very pleasant to interact with, very quick at responding to my questions. She followed up with me when needed and made sure that all of my concerns were addressed
Karl-Dave Akerekoro-Zinho
e3 Office Furniture has been amazing to work with
The team from e3 Office Furniture has been amazing to work with. From looking at options, to installation, every interaction has been great. They have beautiful products, and their installation team is professional and efficient.
Shannon LeBlanc
Hallmark Dental
E3 has great customer service and quality products
Working with E3 was a pleasure and we highly recommend them! Terry was great in working with us and our designer as we planned out a very large office renovation.  E3 has great customer service and quality products. We are very pleased with the overall outcome of our new office.
Raised Flooring
Raised flooring is one piece of a building infrastructure that enables building owners and managers to provide a flexible, energy efficient, low-cost facility that meets the needs of its employees and tenants. A raised access floor can decrease initial construction cost and time, while making future moves and changes less expensive and disruptive.  The ability to easily access and change power and data beneath the floor can result in a more flexible, responsive, and cost-efficient workplace when you need to reconfigure your workspace.  Improvements to air quality and energy efficiency can also be obtained by forcing clean air from the floor. Hot/cold complaints can be decreased by providing occupants control over their space's diffusers. Save 20% or more on your HVAC energy costs by using under-floor air distribution.
Raised Flooring Systems

Cable Floor

Modular Power Distribution

Underfloor Air Distribution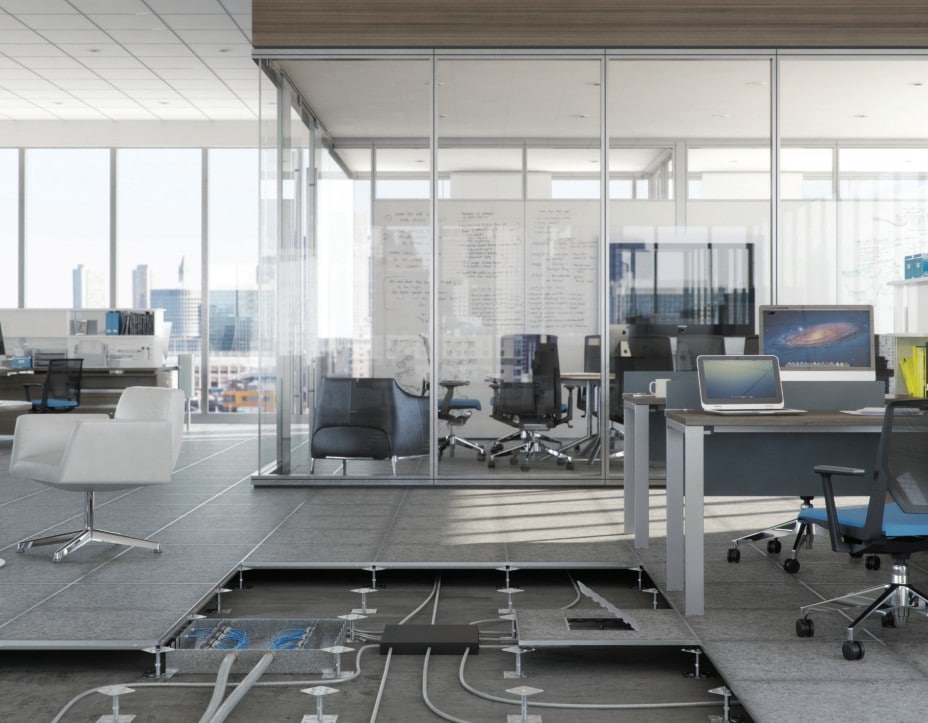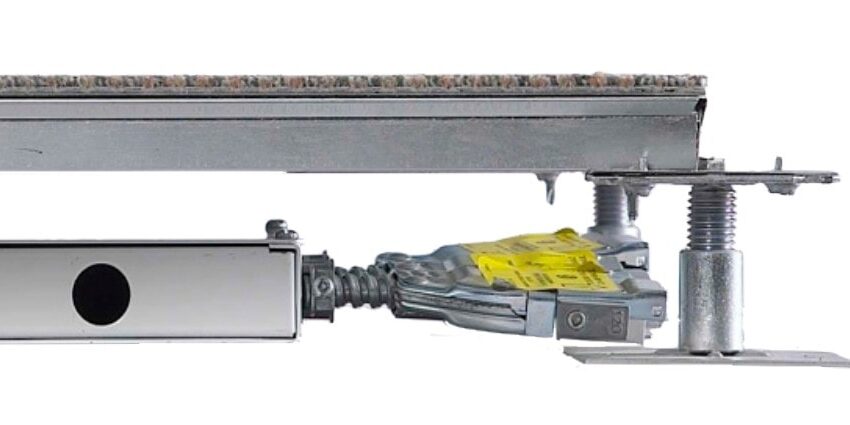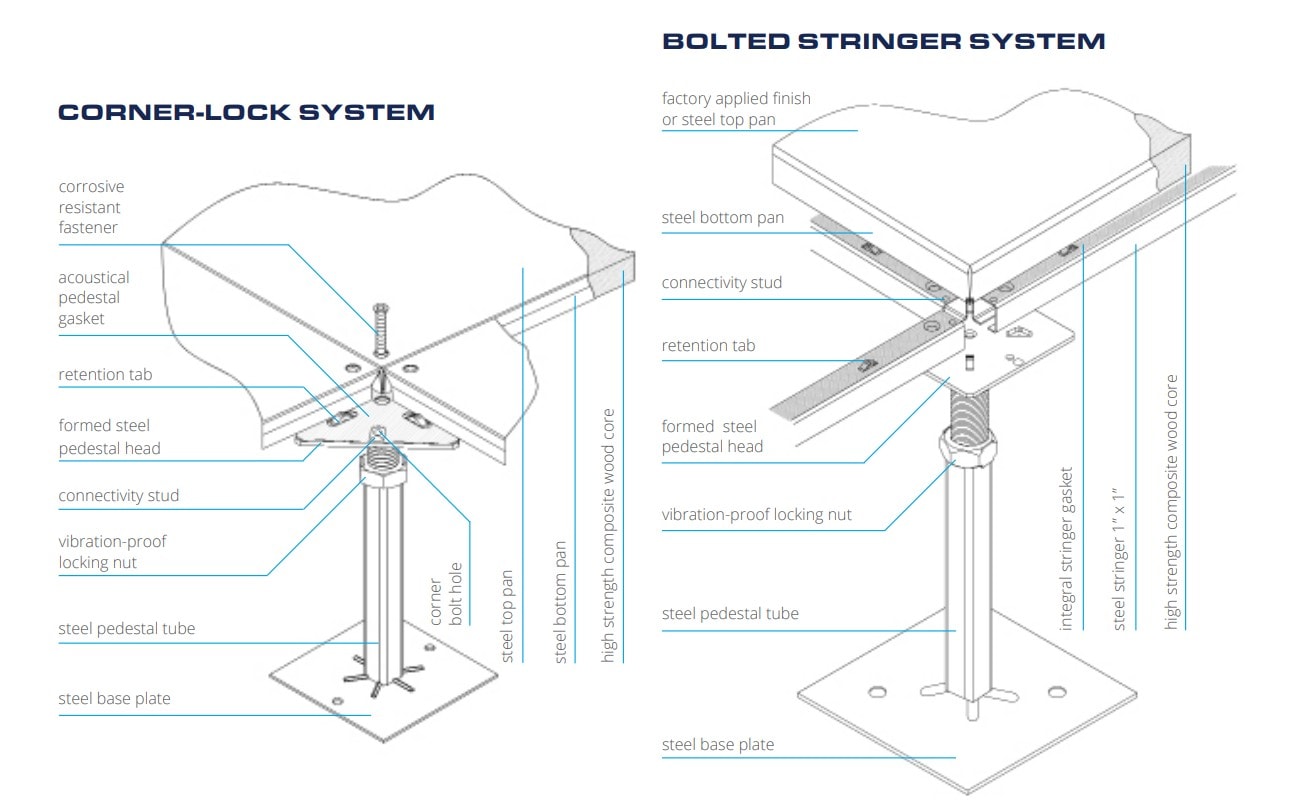 Whether your building requires a comprehensive integrated solution - combining underfloor air distribution (UFAD), modular power distribution (MPD), cable management, Wi-Fi and more - or a more streamlined approach, we will work collaboratively with your team to customize a solution that is ideal for your building environment.
Raised flooring options include corner-lock and bolt stringer systems.  The corner-lock raised flooring system is most often used when carpet tile will be the flooring used in the area or a low-profile solution is required.  The bolted stringer system is most often used when a hard surface finish such a concrete, porcelain, high pressure laminate or vinyl is required for the flooring.
Raised flooring allows you to create an open space without the need for power poles.  Changing the design of existing spaces is not limited by the location of power and data.  Floor height can be varied to accommodate various finishes or functions within a space.
Cable Floor
At just 1.57" finished floor height the cable floor manages cabling below the floor to organize any work area and maximize the floor to ceiling height of the space.  The combination of high strength, light weight concrete and high-density plastic forms this unique low profile floor system that is extremely durable and flexible.

Modular Power Distribution (MPD)
A Modular Power Distribution System (MPD) provides owners, consultants, facility managers and occupants with unlimited flexibility. With a MPD system you have a system that is economical, easily accessible, and adaptable for future additions or re configurations.  A MPD system utilizing Plug & Play technology provides exceptional adaptability to meet the demands of today's ever-changing office spaces – without requiring an electrical contractor.  With utilities under the floor, you can reduce electrical installation labour hours by 30-40%.
The basic components of a MPD consist of distribution boxes, electrical floor boxes, modular connector cables and infeed transition boxes for the connection of modular furniture cables.

Underfloor Air Distribution
Raised access floors can help you reduce energy costs by pushing air up from the floor rather than down from the ceiling. Fans use 10- 20% less operational energy. Fan power requirements are reduced because less ductwork leads to lower static pressures. HVAC systems are more efficient because the air is targeted where needed—in the space people work.
Worker comfort is one of the top workplace issues challenging organizations. With raised access flooring, clean and newly conditioned air is introduced through the floor directly into the occupied zone. The air with the impurities naturally rises to be removed from the space. Air diffusers can be adjusted by occupants to give them greater temperature control, allowing them to focus on their work.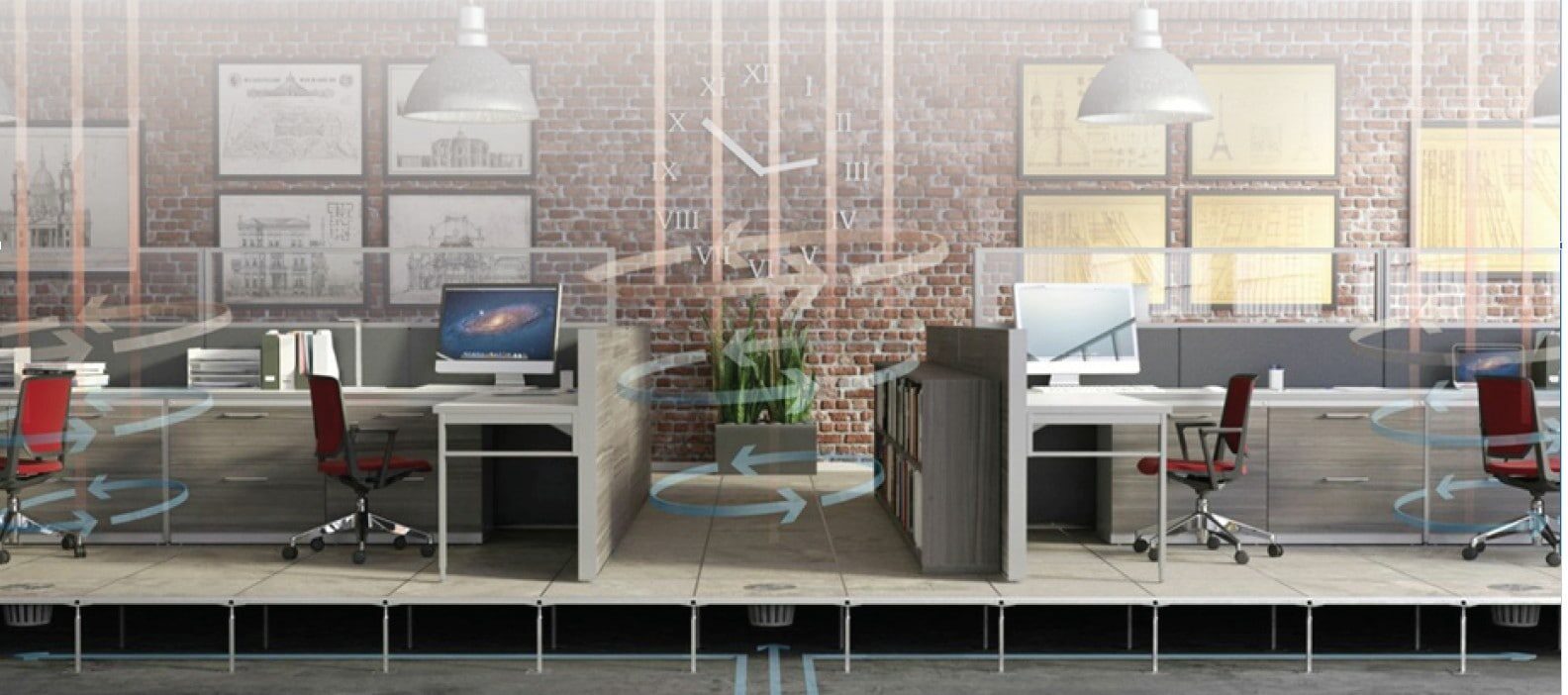 Data and Power Distribution
For distribution of power and data to open work areas, to meeting rooms, to lounge or collaborative areas, both on-floor and under-carpet systems are very affordable options that allows users to quickly add connectivity or change power locations.  Distribution capacity is easily scaled up or down as needed due the modularity of the systems. Durable power and data tracks are designed to withstand loads of up to 1000 pounds.  Low profile transition and end ramps create a gentle slope to conceal the power and cable track that is less that ¾ of an inch high.   
Under-carpet systems work best with carpet tile and it can be installed during new construction or to retrofit any existing space.   Power receptacles are modular allowing them to be installed every 3 feet and can be replaced with Hubcaps to make them flush with the floor and the area free of obstacles when required.  15" wide transition ramps make the under-carpet system almost invisible.  The raceway has capacity for up to 4 data cables, but additional capacity can be increased to up to 24 cables by attaching a data track next to the existing power raceway.
Visible on-floor systems work on top of any flooring surface.  On- floor tracks can be affixed to the floor and easily moved when required.   Like the under-carpet system, the on-floor track allows for the routing of power and data.  The on-floor track is available with a cord for plugging into a standard outlet or it can be hardwired to the buildings power system.  The on-floor track system comes in 6' and 12' track length to deliver a single circuit 15amp duplex receptacle and (4) Cat-6 cables where needed.  The on-floor track allows for multiple receptacles to be installed along the power track every 3 feet and data cable routing of (6) Cat-6 cables.  Data routing can expand to carry up to 42 cables by installing additional data tracks on either side of the on-floor track.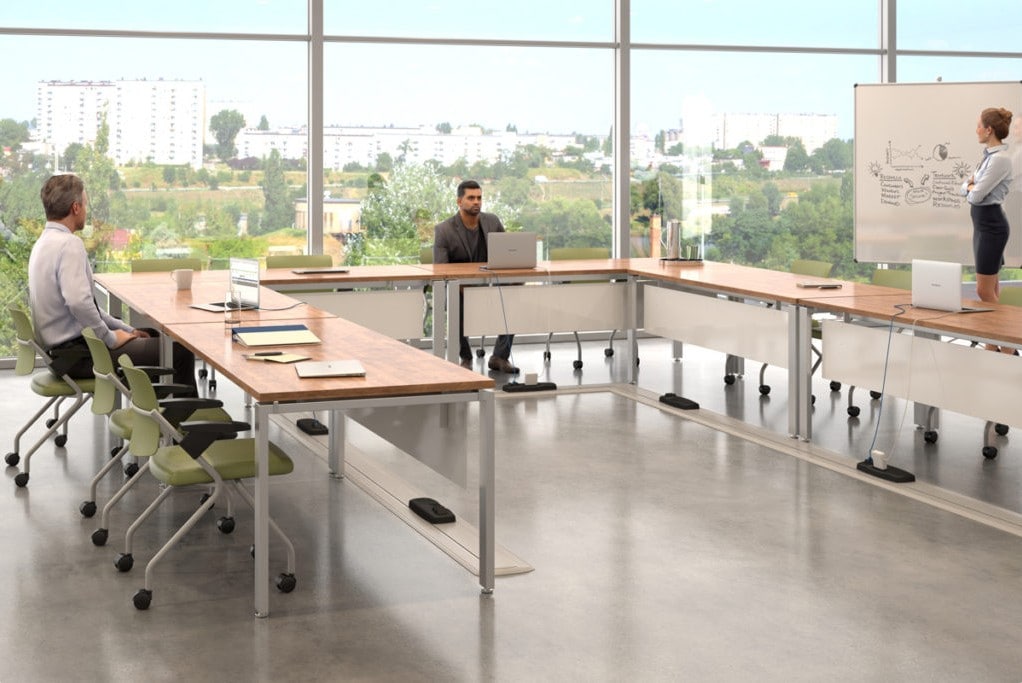 Privacy Booths
A visual and acoustic solution in an open floor plan
The visual and acoustic disruptions of an open office floor plan can be distracting when workers need to focus, have a private call, have an uninterrupted conversation with a co-worker or have an impromptu team meeting.  A solution to this problem can be found in providing work areas to support both solo and teamwork.  Semi-private structures within the open plan can provide areas with just enough privacy for teams to come together to work on projects and create dynamic workspaces that provides multiple work setting for both collaborative and individual work.  Private booths for one of more individuals that can be used as phone booths, a solo quite space or a collaborative work area an also integral part of the solution to improving the effectiveness of an open floorplan design.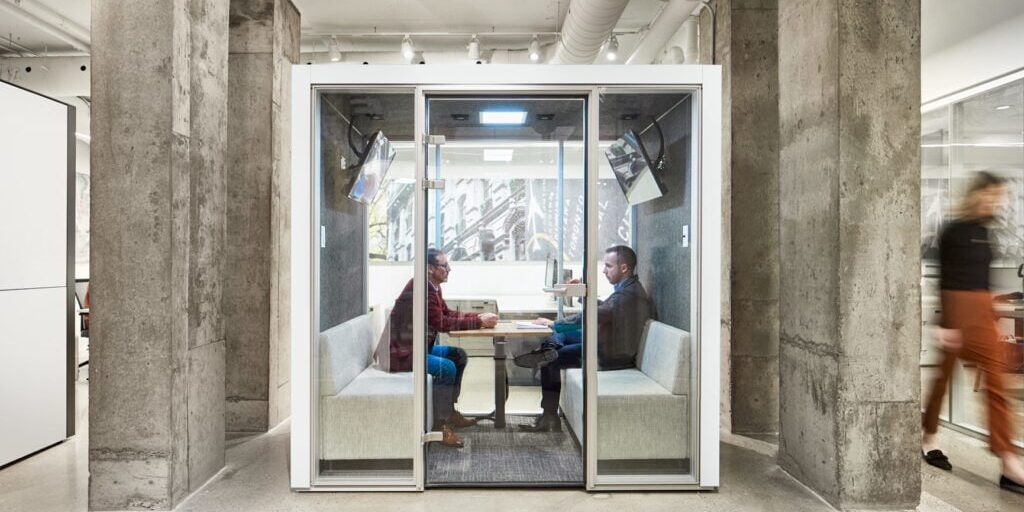 Most of the workspaces of today are designed as open areas to promote the exchange of ideas between colleagues, to generate productivity, to create synergy between teams, etc.  The effectiveness of an open plan design is dependent on the on its ability to offer areas where you can have a private conversation or work as a team and concentrate without bothering others.  Semi-private structures and privacy booths allows workers to get away from the workstation for privacy or for teams to focus and collaborate without interrupting other teams or co-workers.
An integral design element of an open plan
The Mute Box by Artopex complements open spaces by offering compact, acoustically optimized booths that can be integrated anywhere in an open area.  The Mute Box is a freestanding enclosure that can be moved and relocated as changes are required to the open plan workspace.  The Mute Box is available configurations for a single person, dual occupancy or up to 4 people.   End users are provided with a space with integrated air flow, technology, and acoustic privacy.  Visual privacy of the booth can be increased by adding frosted film to the glass surface. All units come standard with integrated power and data outlet to support independent and collaborative work.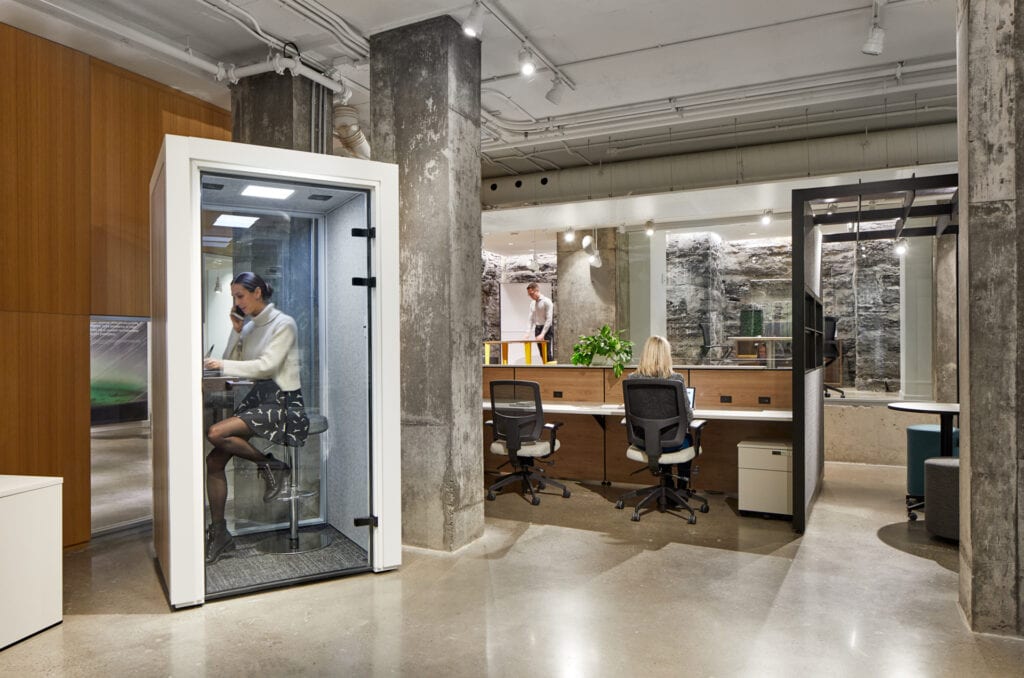 Aesthetics to complement any office interior
The Mute Box can be personalized to match the space in which they are integrated, or the colors of your company.   With 30 metal trim finishes, 13 exterior side panel laminate finishes, two neutral felt, ceiling and carpet options, the Mute Box can be easily designed to complement the aesthetics of your existing furniture and décor.
Single Person Booth
The Mute Box for a single occupant is compact and designed to provide a high level of privacy.  A shelf is provided in each, and additional furniture and accessories can be added.  Outside dimensions are 89" high x 45 ¾" x 45 ¾".   Inside dimensions are 82 ½" high x 37 ¾" x 37 ¾".   Glass walls are double glazed, and the door is a single 10mm sealed glass door.  Two fans offering up to 100 CFM air flow and 88 air exchanges per hour are standard with all units.  The Solo unit also comes two sprinkler head access holds.
Multi-Person Booth
The Mute Box for two to four occupants offers many layout and furniture choices support the collaboration of team members.  The Collab Box is compact and designed to provide a high level of privacy.    Outside dimensions are 89" high x 88 3/8" wide x 55 ½" deep.   Inside dimensions are 82 ½" high x 80 7/8" wide x 48" deep.   Glass walls are double glazed, and the door is a single 10mm sealed glass door.  Four fans offering up to 200 CFM air flow and 65 air changes/per hour are standard.  The Collab unit also comes with four sprinkler head access holds.
Semi-Private Structures
Using either architectural walls or modular systems furniture walls, teaming, conference, café, and lounge areas can be created throughout an open floor plan that can be move and changed with the requirements of the workspace.  Structures can be built to support impromptu meetings between 1 to 2 people or space for multiple groups to have team discussions.  Dedicated team spaces can be provided to enable quick team meeting or the ongoing sharing of ideas and information.  Compact touch down spaces can be created to allow workers to get away from their workstations for privacy or for simply a change in where they work.  They can also be created to accommodate traveling team members or guests.  
Using modular walls, touchdown, lounge and café areas can be created through out the open floor plan to provide spaces for workers to meet, great, work, or socialize with colleagues.  Modular walls can be used to define different work zones and create neighborhoods within an open plan.
The following image gallery illustrates the multitude of semi-private and private workspaces can be created to support how people work.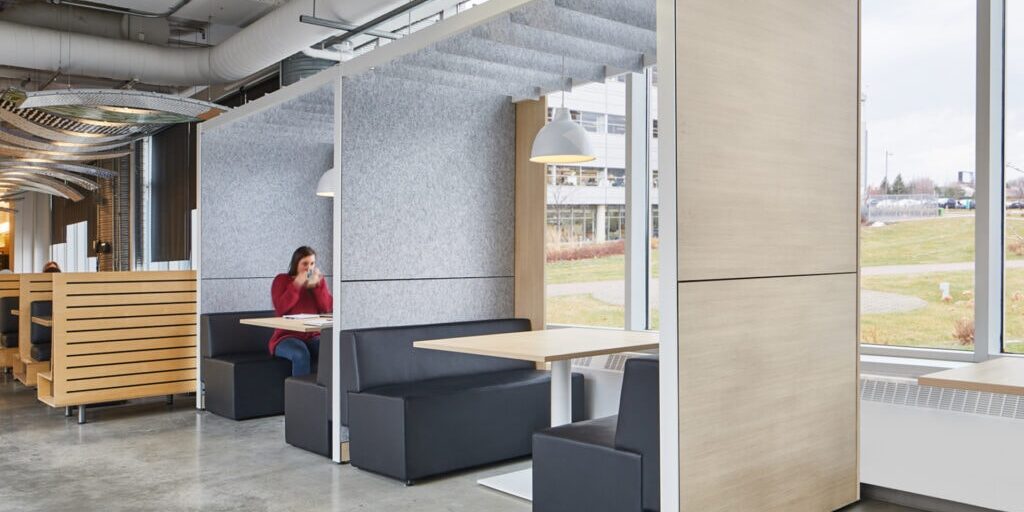 Movable & Demountable Walls
Flexible, versatile, competitive & green
See your office before it is built
Design your office without compromise
Save money when you change your office

 

Build and change your office without harming the environment
Flexible, versatile, competitive & green
A movable wall is a modular construction product that is used in place of traditional construction to provide the same sound and sight privacy as a traditional wall.   Components are pre-cut at the factory and assembled on site so the time to complete the construction of your office is reduced by 75%.   Renovate your office without drywall dust, without the smell of paint, and without sending more waste to the landfill.   
See your office before it is built
With our software, we can create a virtual drawing of your new office.  You will be able see how each area will look and function before it is built.  You will be able to get buy-in from other employees and stakeholders plus avoid making design errors that are costly to change with traditional construction.
Design your office without compromise
You can choose from an endless choice of surface colors and finishes.  Our walls do not have any limitations with regards to the combinations of surface materials that you can use to create your unique office design.  Don't worry about height limitations.  Our walls can go up to twenty feet high and those heights can be increased should you move to a space with higher ceilings.  Since the walls are modular, our carpenters can easily make changes during and after construction.  No costly tear-ups and re-builds if you wish to change your mind.
Save money when you change your office
Unlike drywall, our modular walls can be remodelled, moved, and re-used, thus costing you a lot less than if you had to tear down and construct new drywall walls.  Renovation time is also decreased by 75%, allowing you to move into your new office a lot quicker with a lot less disruption to your workplace.  You won't have to deal with drywall dust, paint fumes, or multiple contractors to complete your changes.       
Build and change your office without harming the environment
By choosing to use modular walls, you are contributing to environmental sustainability.  Our modular walls integrate seamlessly with existing and new construction, helping extend their life cycle.  The flexibility of our modular walls means that they can easily be dismantled and reassembled.  Unlike traditional walls, you won't have to make a trip to the landfill during or after construction.   Modular walls also contribute to LEED certification.
Movable & Demountable Walls
PLANIKA demising demountable office wall systems are fully demountable offering versatility and flexibility of design in any space without the long-term commitment of conventional drywall construction.  Its steel structure and its modularity make it easy to interchange panels and add furnishings in no time.  
Electrical and plumbing ready.  High and low voltage integrated electrical components including room scheduler, card reader, and electrical strike available.   
PLANIKA provides the freedom to customize your workspace using several different colors and material choices.   Standard surfaces included metal and laminate.   Custom finishes in fabric or felt available.   Single and double glazing available in tempered, laminated, low iron or speciality.  PLANIKA demising wall system allows the flexibility to change your mind as many times as you like without even affecting the internal structure of the system.
Reflex is a demountable wall system that feature glass, solid and segmented walls.  Wall can be free-standing or floor to ceiling.  No limitations on height, segmentation, or surface finishes.  Glass options range from clear to coloured, frosted to patterned, single or doubled glazed.   Standard solid panels have a STC rating of 49 when fully insulated and Reflexes double glazed glass offer an STC of 42.  Doors can be glass sliders or pivoting, laminate or veneer.  Vertical surfaces are standard in high pressure melamine, but natural stone, veneers, glass, and metal wrapped are also available.  Wall surfaces can single vertical sheets or segmented to the customer's design preference.
Clean lines and thin profiles. Reveal the beauty of every interior space while enhancing architectural features and letting in more natural light.  Inspired by a sleek design aesthetic, FINO from Muraflex is a streamlined demountable glass wall solution, providing flexibility and convenience with less bulk.  Made from fully recyclable aluminum, Muraflex offers European style with domestic lead times.  
FINO is a leader in innovation and engineering with superior quality in performance and design. Minimal and elegant, FINO has an exceptional design, and perfect alignment.  Its offering of standard and curved glazing provides designers and architects a palette of design elements to give your space its own unique design.  All FINO doors, whether swing or sliding, are engineered to perfectly seal closed offer superior acoustics.  
Standard in (9) anodized finishes, (3) wood finishes, and (5) power coat finishes.   Limitless custom power coat finishes available. 
MIMO is a true demountable wall.  Installed on the finished floor, MIMO can easily be moved and reconfigured.  In addition to its standard line of sliding, hinged and pivot glass or wood doors, this line offers both framed and frameless glass doors.   With sliding glass doors available up to 50" wide.
MIMO walls can also accommodate electrical wiring or plumbing.  Apart from being stylish and sophisticated, this line is functional, fully customizable, and perfectly hygienic.
Made from fully recyclable aluminum, the extrusions are available in countless colors and finishes and can accept a variety of glass and wall panels.  MIMO range has all the required and necessary conformities, compliances, tests, certifications and contributes to the LEED and WELL codes.
Available in (6) standard anodized finishes, (5) standard powder coat finishes, and limitless custom powder coat finishes.
QUADRO is designed with elegance and prestige in mind. With its recessed reveal, QUADRO creates a picture frame effect highlighting your office space like a work of art.  QUADRO can be entirely customizable on either the corridor or the office side.  Interior Designer and Architects can have fun with the widest array of finishes including anodized, powder coat, wood veneer, brushed, and polished finishes.
QUADRO makes it easy to meet your own design needs by making your office space luxurious on both the inside and outside. By mixing and matching profiles and finishes, you create your own ambiance.
Muraflex doors are carefully engineered to exacting standards that provide you with the greatest strength, durability, and reliability, in the slimmest profile possible. QUADRO uniquely offers a framed sliding door to benefits from the beauty of a pocket door while maintaining sound transmission the same. A wide range of options are available for our QUADRO doors including magnetic lock, hold open, soft closer, etc.
Standard in (9) anodized finishes, (3) wood finishes, and (5) power coat finishes.   Limitless custom power coat finishes available. 
Designed to integrate with Reflex wall partitions, Clearflex is a post-free butt joint glass partition system that offers an exceptionally clean & modern aesthetic.  It is fully modular and designed to allow for reconfiguration of walls to accommodate interior changes.  Reversible non-handed door frames and hardware reduces the requirement to purchase additional hardware when changes are required.  Frameless sliding and swing glass doors complement the visual aesthetic of the Clearflex wall system.  Frames are available in three standard finishes, anodized aluminum, black powder coated, and white powder coated.  Custom finishes are available.
Expo - Sliding Glass Walls
EXPO is a unique industry leading system that provides dependable separation.  Its ceiling-hung construction allows the panels to hover just above the floor and glide effortlessly when opening and closing with each panel in the system linked to the next one.  No floor track or threshold required.  Its frameless panels are available up to 10' high and provide a sound privacy rating of 30 to 34 STC.
Ready to find out more?
Drop us a line today for a free quote!